This weekend it is Holi, the Festival of Colors, in India.  I had the privilege of going to India at this time a couple of years ago and taking part in the fun festivities surrounding Holi.  I wrote about this amazing experience  and the whole memorable trip for a Huffington Post travel piece and I am reposting below. Check out the article below for more details on Holi, the Taj Mahal, the experiences from my trip, and great pics of me covered in colored powder!
__________________________________________________
I recently returned from a whirlwind trip to India. I traveled with my mother-in-law and sister-in-law while my brave husband took care of our two boys. It was the first time in eight years that I had been back to my "home" — although I was born and raised in the United States, my parents immigrated here from India. Throughout the trip I had a chance to catch up with family, visit tourist attractions, shop local markets and partake in cultural events. The journey was filled with educational tidbits about Indian culture and my heritage, as well as a few life lessons along the way.
We were lucky to be in New Delhi during "Holi," a Hindu holiday known as the Festival of Colors in which people throw dyed powder and water at each other in celebration of the arrival of spring. The government and businesses throughout the country shut down so that all citizens can celebrate together. We attended a Holi party thrown on a large estate or, as Indians call it, a "farmhouse." The sprawling yard was covered with sprinkler-filled tents and baskets of bright colored powder. A wooden stage showcased animated Bollywood dancers, singers and DJ's throughout the afternoon. Guests enjoyed a full buffet of extravagant dishes and decadent desserts. The celebration was as elaborate as a wedding! But unlike a wedding, five minutes after arriving dressed in pristine white clothes we were engulfed in a sea of dyed water and colored powder! It was an incredible day of music, food, and fun — I'm thrilled that I was able to experience this long-standing Indian tradition firsthand.

We also traveled to Agra to visit the Taj Mahal. It had been nearly 20 years since I last visited this wonder of the world, though the awe it inspired may have been even greater this time around. It is difficult to express the breathtaking nature of this treasure — no words do justice to its beauty. The story behind its creation is equally as impressive. Mughal emperor Shah Jahan built the Taj Mahal as a tomb and symbol of love for his second wife, Mumtaz Mahal, who died during the birth of their 14th child. Construction began in 1631, and the building was completed 22 years later. The project required 20,000 workers and cost approximately $1 million. The entire structure was built in perfect symmetry except for one slight imperfection. Queen Mahal's tomb sits in the middle of the Taj Mahal, while Emperor Shah Jahan's tomb was placed just to the left. A slight imperfection that guarantees he is next to his love for eternity.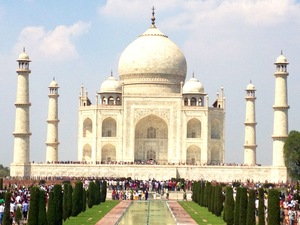 Throughout my trip I was amazed at how much India has progressed in the last eight years. Most roads in New Delhi are now paved, traffic is more manageable, the city is cleaner and many citizens speak English and are now wearing Western clothes. Although poverty is less apparent than the past, however, it continues to remain an issue. Glimpses of children forced to beg on the streets and slums crowded with families doing their best to survive serve as a constant reminder of the struggles that many less fortunate encounter daily.
In the end, the most rewarding aspect of my trip was the feeling of gratitude I experienced throughout. Gratitude that I have such a strong relationship with my in-laws to be able to take this trip together. Gratitude that I was able to experience such a beautiful and diverse country in a way that I hadn't before. Gratitude for the moments in life that teach you not to take anything for granted. And, gratitude for my "home" away from home.